KEY FIGURES
Today, Sud Ouest Système is a simplified joint-stock company with a share capital of €400,000 euros and a turnover of approximately €6 million euros.
As one of the leaders in the industry, we specialise in the refurbishment of large-scale machine tools and in the design of special-purpose machines for aeronautics, the arms industry and energy.
DEVELOPMENT OF TURNOVER SINCE THE COMPANY'S FOUNDING
DEVELOPMENT OF THE WORKFORCE SINCE THE COMPANY'S FOUNDING

With a workforce about thirty employees, expanding in a reasonable and steady manner has made it possible to build a stable, healthy and reliable business that incorporates new skills in order to meet the modernisation requirements of customers' production equipment.
BUSINESS BY SECTOR
Our clients are divided into the following sectors
(% of business by sector mesured on 10 years):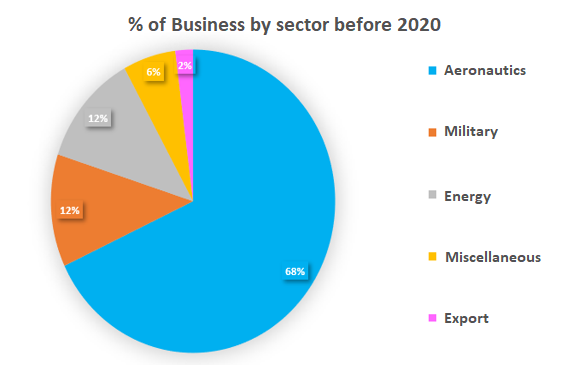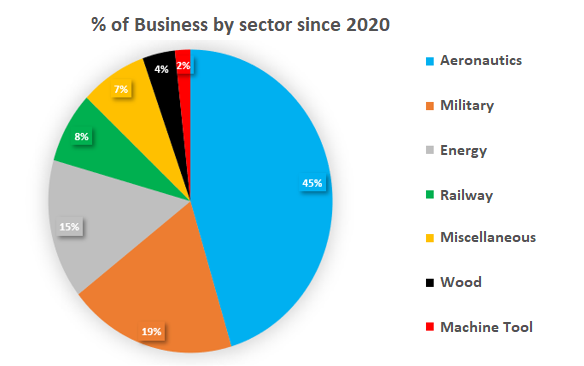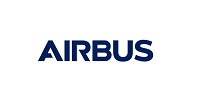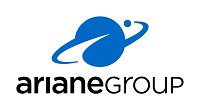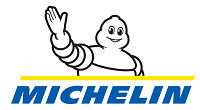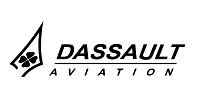 and…
ACTEMIUM, ADT, ALSTOM, FRAMATOME, CNIM, CONSTELLIUM, CORIOLIS COMPOSITES, AD INDUSTRIE, ETF, FIGEAC-AERO, LATECOERE, MBDA, MECACHROME, MGP ASQUINI, MKAD, MTI, NEXTER, RATIER FIGEAC, SAFRAN, SPIE, STELIA AEROSPACE, FOREST LINE, COMAU, PREMIUM AEROTECH, AIRCRAFT PROPELLER SERVICE, AUBERT ET DUVAL, GKN AEROSPACE, SAAB…