The industrial sector is a changing field in which professionals must constantly face new requirements (sanitary, technological…). A context where machines can quickly become obsolete, but replacing a machine is very expensive. This is why the retrofit solution is a method increasingly favored by the industry.
1 What is retrofitting ?
Many reasons can push a company to make the choice of retrofit for its machine tools. Among the main reasons, we find the fact of wanting to adapt to the new regulations, the lack of productivity, a faulty machine…
Retrofitting consists in replacing one or several components of your machines by more elaborate and recent technologies and components. It is a process used on machine tools or specialized machines whose mechanical components are very qualitative and which, in general, have very specific durability criteria.
In concrete terms, the aim is to optimize machine performance by replacing obsolete components with new generation parts.
However, retrofitting is not limited to replacing parts on your machines.
Our technicians can also intervene on the mechanical and electrical parts as well as on the software part of the machine.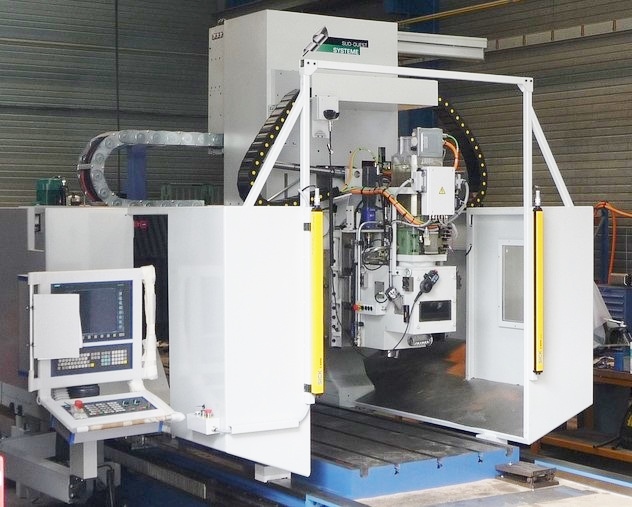 At Sud Ouest Système, we can intervene on the software part of your machine and propose a Maintenance 4.0 package so that you can connect your machines to your network and follow your production in real time. The retrofit is therefore much broader than it seems and is an opportunity to develop the performance of your machine tools or specialized machines.
2. The benefits of retrofitting
The industry sector is a changing sector where professionals must constantly face new requirements. The first benefit of retrofitting your machines is therefore to make them operational for new operations and market requirements (regulations, productivity, etc.).
Apart from the productivity gain that retrofit can bring you, it is economical to choose a retrofitted machine over a new one. Indeed, modernizing your machines through retrofit allows you to integrate new functionalities (tool magazine, robot,…), to connect your machines to industry 4.0 and to meet all requirements in terms of safety. Retrofit is a good way to overcome some financial and technical constraints. It is obviously easier and less expensive to retrofit a machine than to buy a new one.
3. THE SUD OUEST SYSTÈME METHOD
Sud Ouest Système has more than 30 years of know-how. We take care of the retrofit of your machines and modernize your old machines with recent components that meet the requirements of the market.
1. Your needs
In order to establish a customized project: our experts work with you to identify and analyze your need for renovation or reconstruction. Following a machine expertise, we can carry out obsolescence studies of your machine parts with our design office.
2. The work
Our different design offices take care of the design of your machines while meeting your specifications. We can then begin the renovation of your special machine or machine tool. Our different technicians intervene on the different parts of your machine: mechanics, hydraulics, automatism, electronics…
3. The Sud Ouest Système +
Finally, so that your machines can meet the requirements of the market, we offer a 4.0 package. You can connect your machines to your network and follow your production in real time on all your screens and devices.
A retrofit project needs to take stock of the budgetary and strategic aspects of such an operation. Our team will accompany you throughout your project to determine the best choice for you! Do you have a machine retrofit project in mind? Do not hesitate to contact Sud Ouest Système.